Goli Nutrition
GOLI KIDS MULTI GUMMY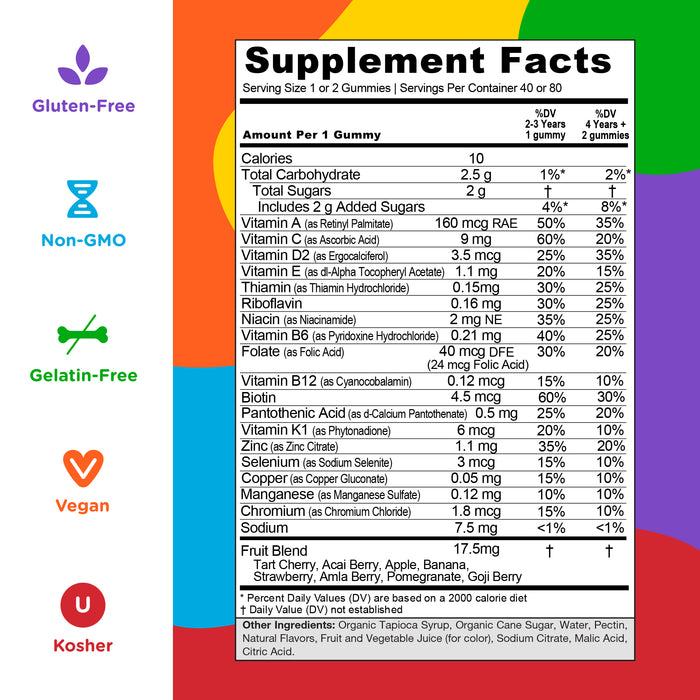 RRP: $29.99
Not your average kids multivitamin gummy!

Say goodbye to the days of begging your little ones to take their vitamins! These yummy gummies are designed for the small but mighty kiddos, packed with plenty of health-promoting ingredients! They're formulated to offer the COMPLETE spectrum of ALL 13 Essential Vitamins as well as Key Minerals, making up a total of 18 Nutrients to help them grow into shining stars.
Total Carbohydrates 2.5 g
Total Sugars 2 g
Vitamin A (as Retinyl Palmitate) 160 mcg RAE
Vitamin C (as Ascorbic Acid) 9 mg
Vitamin D2 (as Ergocalciferol) 3.5 mcg
Vitamin E (as dl-Alpha Tocopheryl Acetate) 1.1 mg
Thiamin (as Thiamin Hydrochloride) 0.15 mg
Riboflavin 0.16 mg
Niacin (as Niacinamide) 2 mg NE
Vitamin B6 (as Pyridoxine Hydrochloride) 0.21 mg
Folate (as Folic Acid) 40 mcg DFE
Vitamin B12 (as Cyanocobalamin) 0.12 mcg
Biotin 4.5 mcg
Pantothenic Acid (as d-Calcium Pantothenate) 0.5 mg
Vitamin K1 (as Phytonadione) 6 mcg
Zinc (as Zinc Citrate) 1.1 mg
Selenium (as Sodium Selenite) 3 mcg
Copper (as Copper Gluconate) 0.05 mg
Manganese (as Manganese Sulfate) 0.12 mg
Chromium (as Chromium Chloride) 1.8 mcg
Sodium 7.5 mg
Fruit Blend (Tart Cherry, Acai Berry, Apple, Banana, Strawberry, Amla Berry, Pomegranate, Goji Berry.)

Other Ingredients:
Organic Tapioca Syrup, Organic Cane Sugar, Water, Pectin, Natural Flavors, Fruit and Vegetable Juice (for color), Sodium Citrate, Malic Acid, Citric Acid.

Suggested use:
Ages 2-3, take 1 gummy daily.
Ages 4+, take 2 gummies daily.
Instruct children to chew thoroughly before swallowing.

Gummies DO NOT Contain:
Yeast, wheat, milk, eggs, gluten, soy, gelatin, peanuts, shellfish, dairy, artificial sweeteners, synthetic colors, artificial flavors, agave or salicylates.