Gut Performance
GUT PERFORMANCE COLLAGEN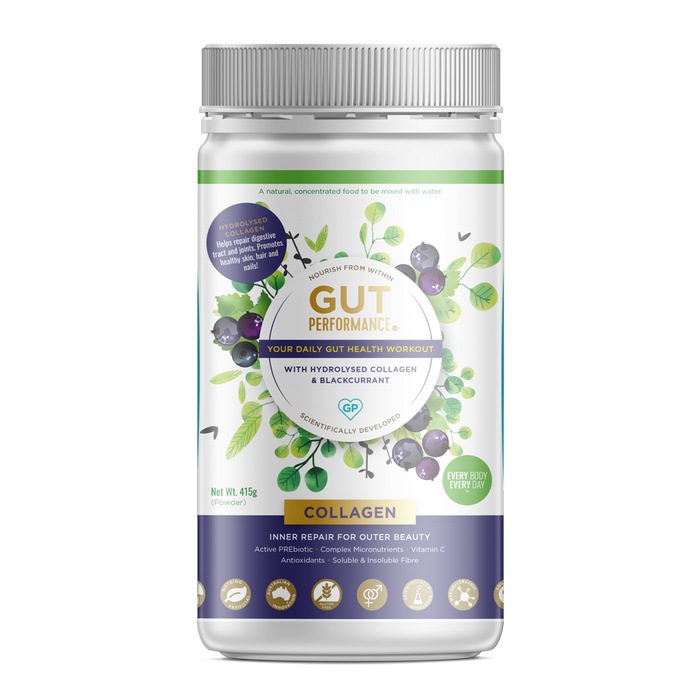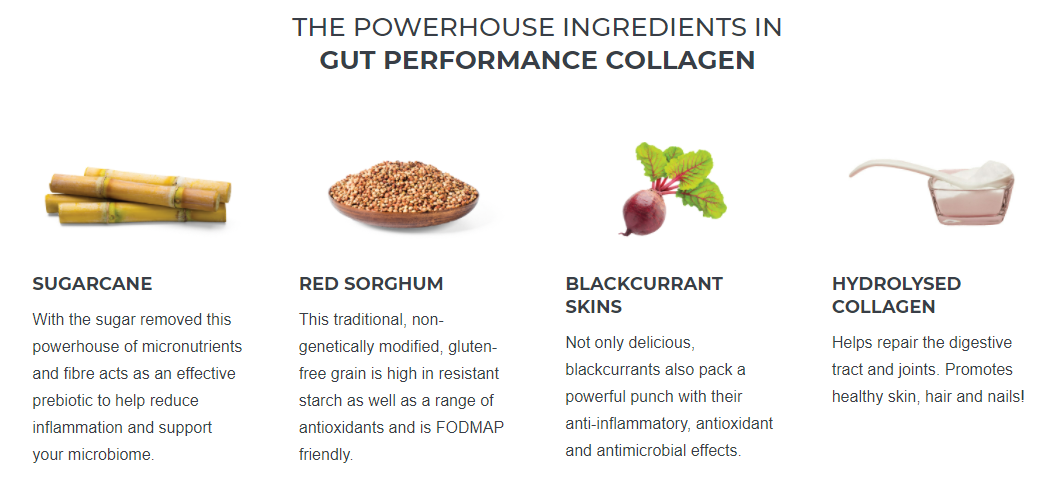 RRP: $115.99
GUT PERFORMANCE COLLAGEN - 30 SERVINGS
Improve your gut health, joints and skin all at the same time! Make Gut Performance your daily gut health workout and see the benefits of Hydrolysed Collagen combined with Blackcurrant Skins in just one week! Only the highest quality Hydrolysed Collagen (Bovine) is used in Gut Performance. Nourish from within now!
Hydrolysed Collagen helps to repair the Digestive Tract as well as joints and skin. Gives your hair a healthy glow too!
Blackcurrant skins are high in Vitamin C which supports connective tissue health, collagen formation and wound healing.
80% of your immune system resides in your gut. That's why researchers and scientists now believe that your gut is at the very core of your health and wellbeing. The foods in Gut Performance contain compounds that can nourish, normalize and fortify the protective lining throughout your digestive tract and help your natural microbiome to flourish. Gut Performance® is a delicious PREbiotic boost of fibre with essential micronutrients you can mix with water, smoothies, shakes or food.
For best results, we recommend one rounded scoops of Gut Performance Collagen for Every Body Every Day*.
Mix it with water, smoothies, shakes or food for a delicious boost of PREbiotic fibre and essential micronutrients.
Blackcurrant Flavour
Hydrolysed Collagen (bovine); Whole Blackcurrant Skin Powder; Sugarcane Stem (sugar removed); Red Sorghum; Citric Acid; Stevia (natural sweetener); Potassium Bicarbonate; Gum, Xanthan & Guar; Natural Blackcurrant Flavour
Contains NO artificial colours, flavours, preservatives or chemical stimulants.
What our customers say
Blown away by how much this improves my digestion and bloating. I've always had gut issues every time I eat raw cabbage or beans. But since taking this I am able to eat raw cabbage and beans!! So happy and impressed by this product! No more uncomfortable bloat!
May 13, 2021 by Kartya on Gut Performance